On a cloudy and relatively mild Saturday late in October, costumed creatures gathered on the campus of Appalachian State University for the 9th annual Spooky Duke 5K/10K Race and Costume Contest.
The Halloween-themed fundraising and awareness raising event is a USA Track & Field (USATF)-certified 5K and 10K race with a free costume march and contest where children, adults, and pets can all show off their unique costumes and share in the fun. Spooky Duke is named in honor of Dr. Charles R. Duke, event sponsor and former dean of Appalachian's Reich College of Education (RCOE).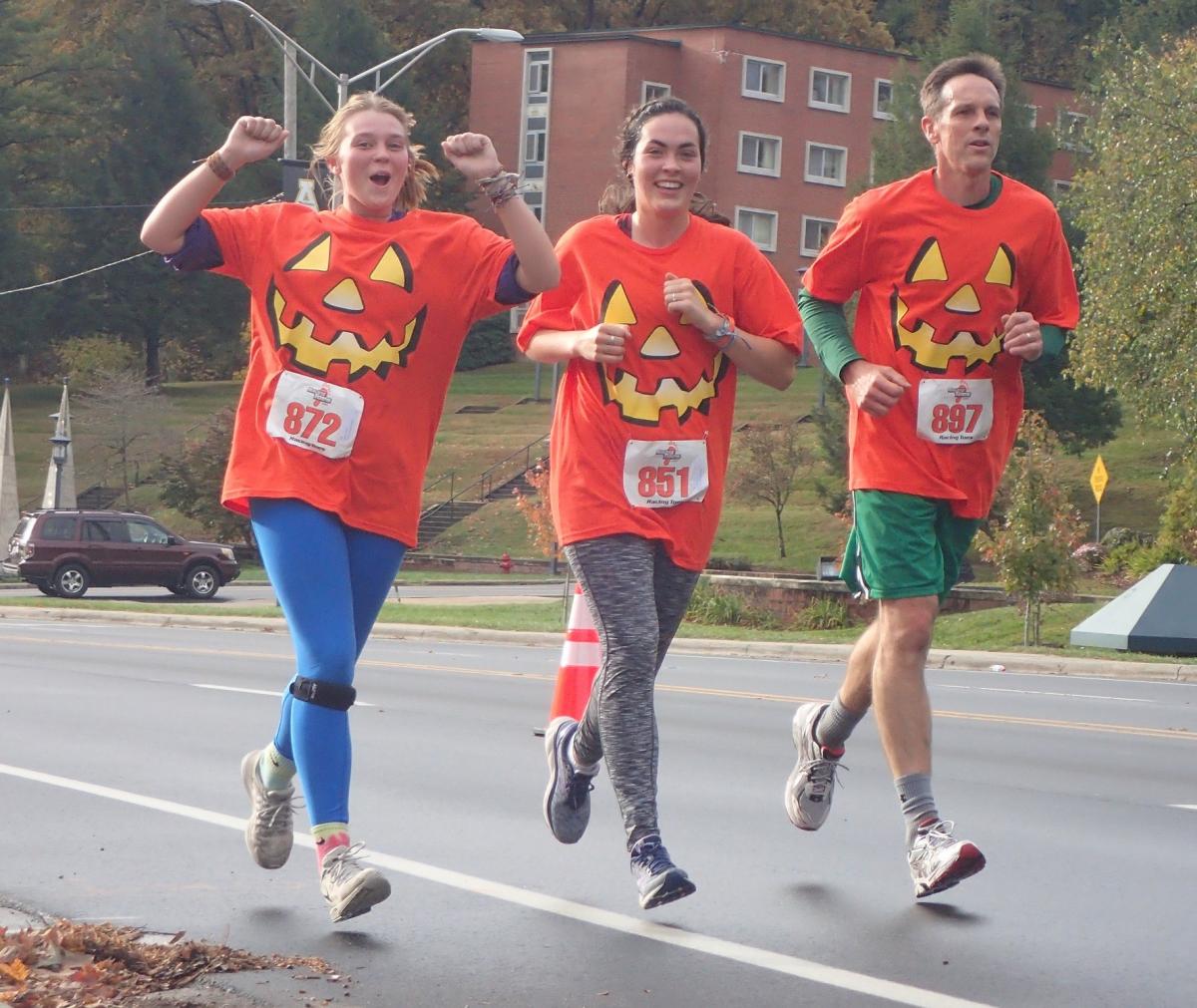 Having fun running the Spooky Duke! Photo by Marta Saylors
This year, 363 walkers/runners participated and 75 volunteers helped make the event successful. With sponsorships, donations and participation fees, the event raised over $14,000. Thanks to a $10,000 matching grant from the Health Foundation, Inc. the total raised is over $24,000.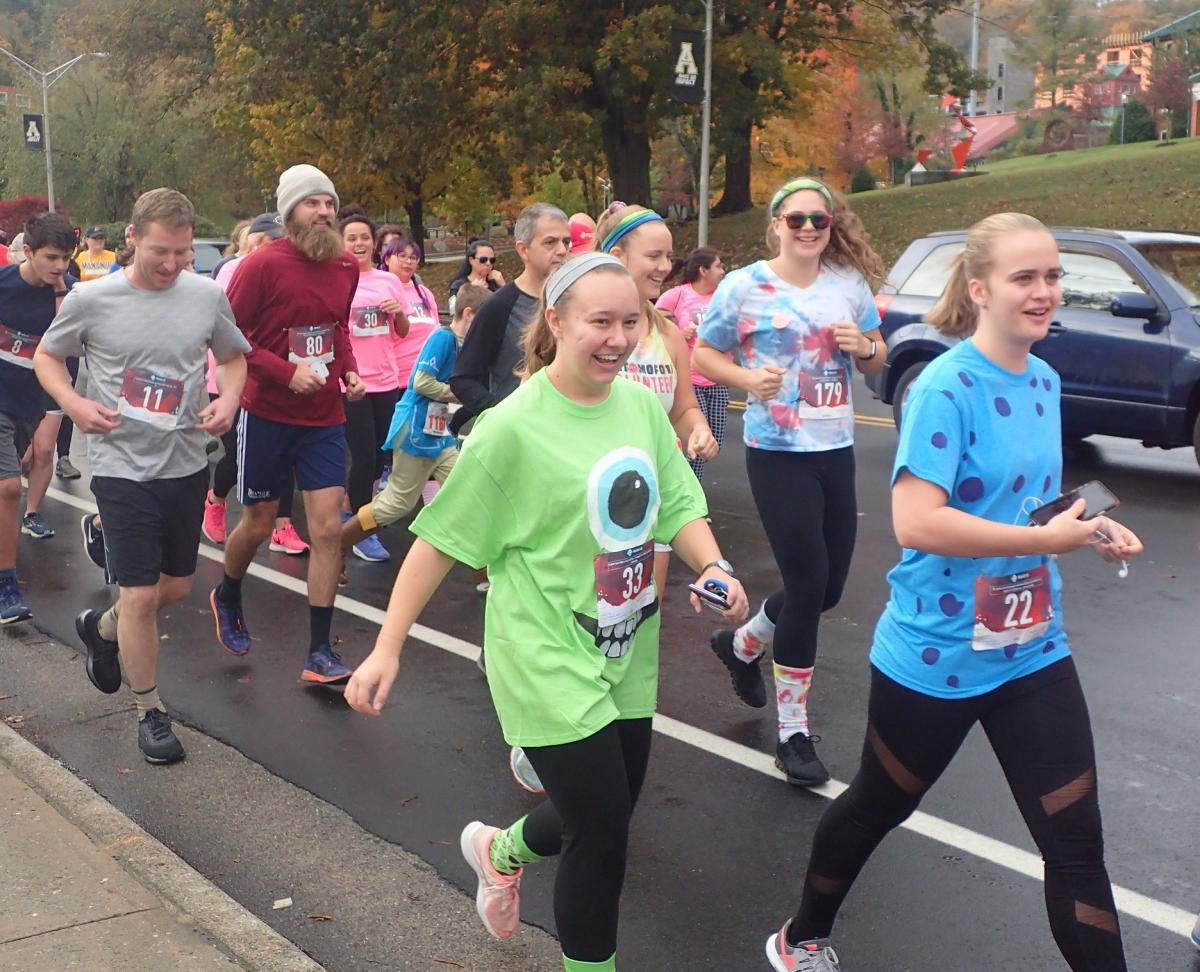 Senior education majors Abigail Chapman and Rebecca Boyles participated in both the race and the costume contest! Photo by Marta Saylors
All proceeds benefit Appalachian State University's Parent to Parent Family Support Network-High Country (FSN-HC), housed in the RCOE. Parent to Parent FSN-HC provides free support and information to families who have a premature baby; a child with a disability, an emotional or behavioral challenge, a mental illness or a chronic health condition; or to families who are grieving the death of a child. The program serves Alleghany, Ashe, Mitchell, Watauga, Wilkes and Yancey counties.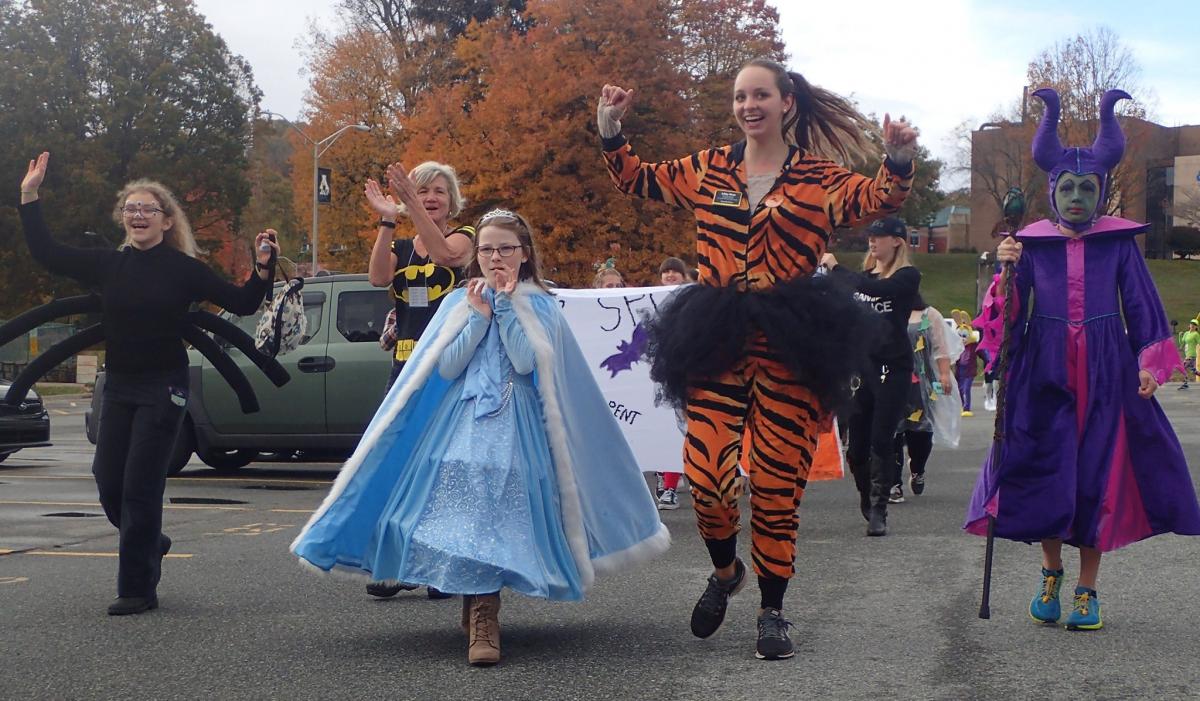 App Educators Club leads the Costume March! Photo by Marta Saylors
For more photos, be sure to check out the albums on the Parent to Parent Facebook page.
Event Sponsors
Parent to Parent FSN-HC would like to thank the following sponsors for their contributions:
Hair Raiser ($1,000+)
Dr. Charles R. Duke
The Health Foundation, Inc.
Alice P. Naylor
Fang-tastics ($500+)
Appalachian Police Department
Be Natural
Alice and Paul Bullard
Friendship Honda
GoPostal
Mast Farm Inn
Mast General Store
Mountain Works
Skyline-Skybest
Ultimate Sound DJ Company
Jack-o-Lanterns ($250+)
4-Forty-Four
BlueRidge Energy
Blue Ridge Vision
Boone Drugs, Inc.
Boone Industries
Christmas in Blowing Rock
Coe Realty
Graystone Eye
High Country Community Health
Modern Automotive
Nails By Brit
Ray's Weather
Rich Summit Mountain
Ross Chrysler Jeep Dodge Ram
Cratis D. Williams School of Graduate Studies
Up 'N Running
Skeletons ($100 or less)
Basil's Market
Bistro Roca
Boone Tire
Booneshine Brewing Co.
Robert H. Bridgeman
Capone's
Canvas Beauty Bar
Casa Rustica
CDSA Blue Ridge Roadrunners
Charles Lieberman
CoBo
Dos Amigos
Food Lion
Grandfather Mountain
Haircraft
Haircut 101
Harris Teeter
Hawk Mountain Tree Farm
High Country Souvenirs
High Gravity Adventures
Ingles
Jaybird Aerial Photography
Lily's Snack Bar
Los Arcoiris
Lost Province Brewing Co.
Lowes Food
Mellow Mushroom
Mike's Inland Seafood
Neighborhood Yoga
Regear
Sunrise Grill
Thairapy Hair Studio
The Cardinal
The Goldsmith
The Local
The Spice and Tea Exchange
University Bookstore
Village Café
Wal-Mart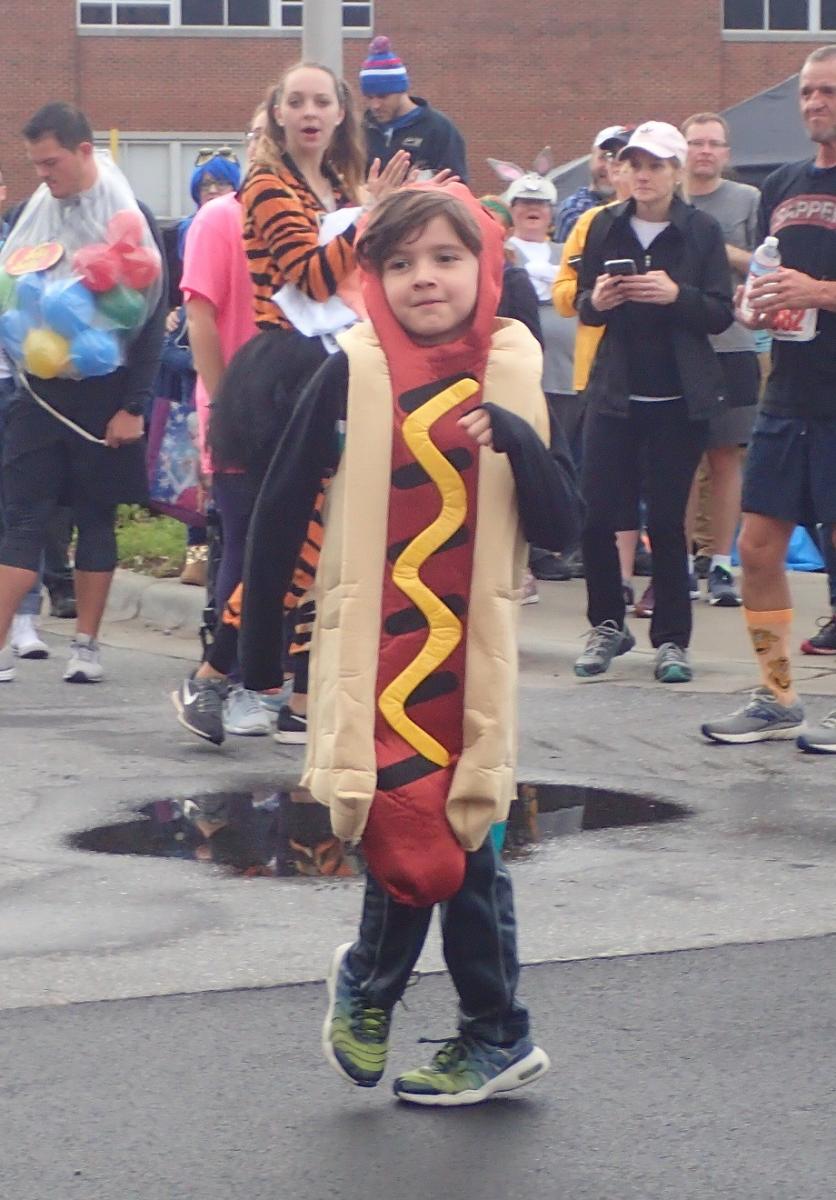 Dancing to the spooky tunes! Photo by Marta Saylors
Race Results
5K Top Finishers (men)
First place — Matt Shock; time: 16:32.1.
Second place — Sam Jenkins; time: 19:07.5.
Third place — Jeff Terbey; time: 19:09.8.
Masters — Steve Collie; time: 24:46.3
5K Top Finishers (women)
First place — Faith Blume; time: 20:35.5.
Second place — K. Putman; time: 22:16.7.
Third place — Renee Harrington; time: 22:47.3.
Masters — Melissa Cox; time: 24:27.2.
10K Top Finishers (men)
First place — Andrew Evans; time: 41:10.7.
Second place — W. Bradbury; time: 44:56.3.
Third place — Christopher Collins; time: 44:59.0.
Masters — J. Scott Townsend; time: 45:19.5.
10K Top Finishers (women)
First place — Abby Farrell; time: 48:12.1.
Second place — Lizzy Gardner; time: 48:31.1.
Third place — Jennifer Cayer; time: 50:13.3.
Masters — Lori Eggers; time: 52:56.4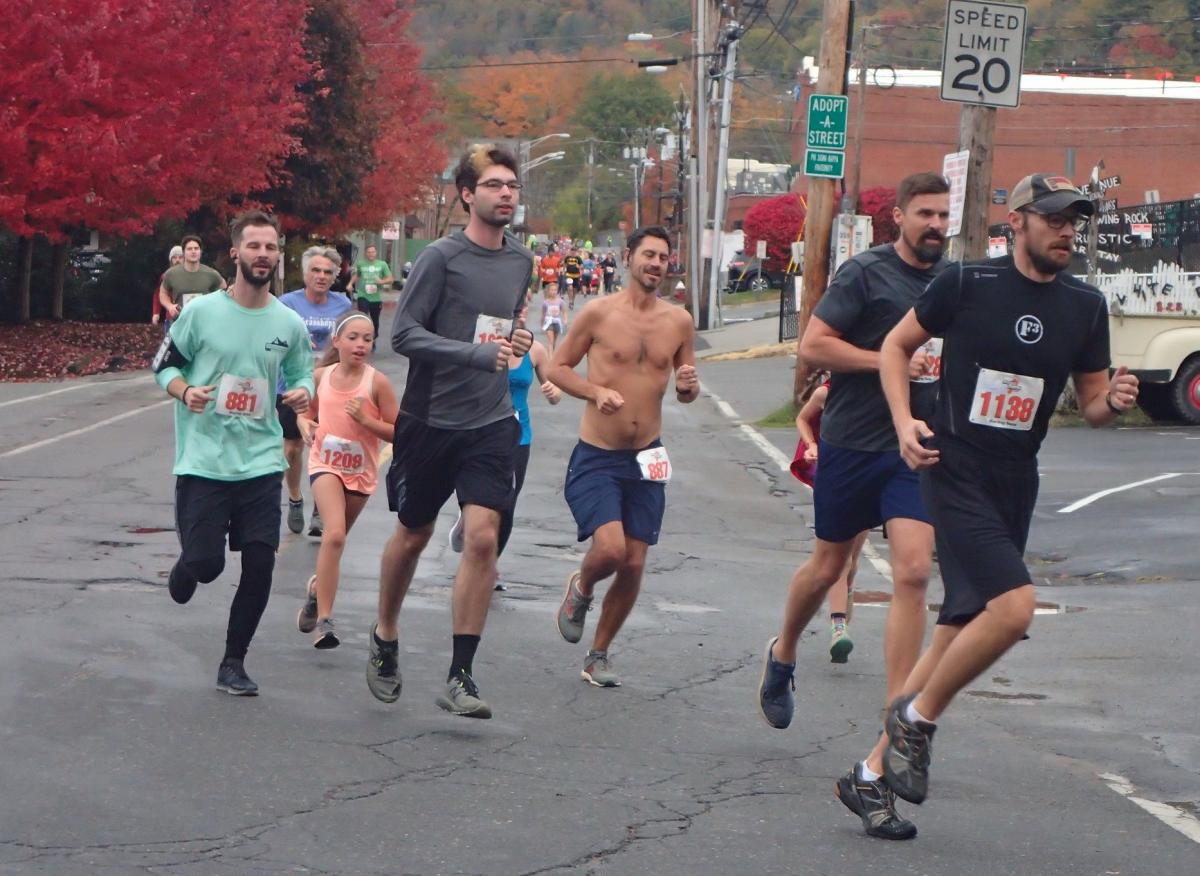 Spooky Duke runners on the course. Photo by Marta Saylors
View the complete Spooky Duke 2019 race results
Special Appreciation
Parent to Parent FSN-HC would like to thank the following groups for making this a successful event:
Appalachian Educators for Childcare
Appalachian State Parking & Traffic
Appalachian State University Police
Appalachian's Women's Softball Team
AppalCart
Boone Police
Boone Town Council
Racing Toes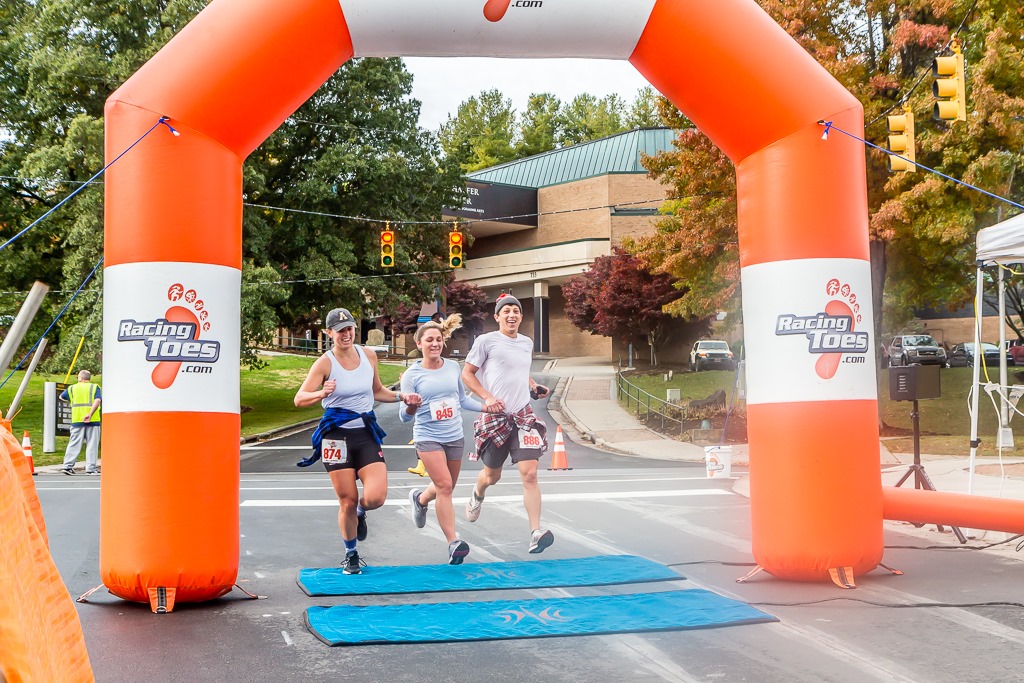 Finishing the race together! Photo by Helen Phillips