By: Dayne Alexander
When she was very young, Jessie Jackson developed in much the same way as others her age. When she was five years old, Jessie could climb trees and talk with a bit of a stutter. By first grade, she had lost most of her speech. By age nineteen she had lost most of her spoken voice; she could say around one-hundred words. Today, a year later, Jessie can only say the word "mom". She uses a wheelchair to get around and a speaking device to help her communicate with those around her. Jessie has type II gm1 gangliodosis, a rare condition that was diagnosed after fifteen-and-a-half years by a special research team in Maryland. Most people would give up if they were in her position, but Jessie refuses to do so. Although her condition is degenerative, Jessie is determined to live her life to its fullest potential.
When Jessie was five years old, she began to notice that she could not run and do things like other kids her age. Seeing how upset she was over this, her grandfather sat her down at a table with a deck of cards. Showing her the deck, he told her that she had been dealt difficult cards. He then told her that she had two choices: she could fold or play her hand. That day was the last time Jessie ever sulked; she chose to play her hand and has not complained since. Her mother, Merlie Jackson, says that Jessie is "all about adventures". She loves to go shopping, ride horses at Blazing Saddles, and travel. Jessie also enjoys going to drag races; Merlie says for her it's "The louder the better! She's crazy!" She has also ridden twice in a wheelchair accessible hot air balloon, played at Disney World, sang karaoke with her speaking device, and presented a powerpoint in front of four-hundred people at a conference.
Attending conferences and events around the country, Jessie never fails to make new friends. There is even a joke in the Jackson family that they have never left a hotel without the maids and everyone at the front desk talking to her and saying goodbye. In Florida, Jessie once met an elderly couple from Spain by the pool and they are now friends on Facebook. Her mother says that Jessie is always sure to make contact with everyone around her. She goes one-hundred miles an hour, soaking up experiences and making the most of her life. Jessie cannot go to college or live on her own, but she has changed so many lives and done so much good already. Jessie and her family's advocacy have led other families to have their children tested for various conditions that are not in standard testing. She and the rest of the Jackson family have saved others from years of pain, confusion, and frustration. How many other twenty year olds can say that they have had this kind of impact?
Jessie is the kind of person who is always on the go, getting the most out of life. She is the kind of person who is late to school because she stops to enjoy the new flowers blooming outside of the building. She refuses to give up or to hide herself away because it is all too difficult to deal with. Of her daughter's thirst for adventure, Merlie says "She's going to experience life and life needs to get ready for Jessie."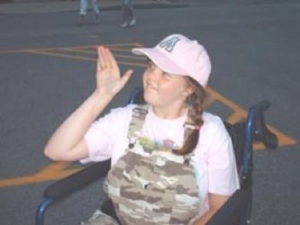 Tags: