My name is Jessie, I am 25 years old and I live in Wilkes County. I have GM-1 Gangliosidosis Type II…it is a very rare genetic disorder that slowly is shutting my entire body down. When I was about 5 years old, my parents noticed my foot was turning inward when I would run and play. I began to stutter when I talked. It took 13 more years before the doctors could tell my parents what was wrong. When they did, we were informed that there is no treatment and no cure and I would probably die in my early 20's. Rather than give up and accept that fate, my parents and I decided to LIVE life, ENJOY life and prove the doctors wrong. Well, so far so good! In December, I will be 26 years old. While I am in a wheelchair now 24/7 and I am totally dependent on my parents who are my caregivers, I have also played baseball on the ASU softball field, went tubing down the Yadkin River with my friends, went on a hot air balloon ride, rode horses, went rafting with my friends, and rode a Harley Davidson TWICE!! And that is all since I have been in a wheelchair full time! So Run for me…and most of all learn from me. No matter what challenges life throws at you, learn to find the JOY in each day you are blessed with and never give up HOPE or the belief in yourself that you can handle anything!!
Jessie and her family have been involved with Parent to Parent Family Support Network-HC for 18 yrs.
With your support of the Spooky Duke Race you are helping Jessie and others receive the information, support, resources, education, and awareness of special needs in our 7 county area of North Carolina. Together we can make a difference! To learn more visit parent2parent.appstate.edu. Thank you!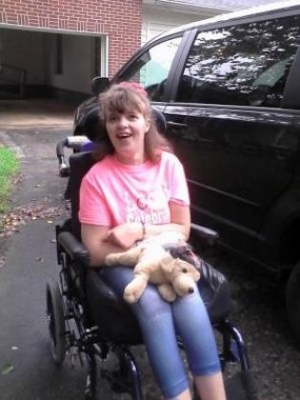 Tags: