"Never give up"
My name is David and I am 31. I have cerebral palsy, I'm nonverbal, I have tetralogy of fallot (heart defect) and I have had 2 major heart surgeries and will need another one in the future. I have also had major orthopedic surgery. I am able to speak for the first time because I recently received a communication system! Never give up! I also love my dogs, playing with my brother and watching Scooby Doo and Sponge Bob. I love everyone and living life to the fullest with the help of my family. While I cannot run, I play adaptive baseball, and love going to the splash pad, and tubing down the Yadkin River.
David and his family have been involved with of Parent to Parent Family Support Network-HC for over 3 years!
With your support of the Spooky Duke Race you are helping David and others receive the information, support, resources, education, and awareness of special needs in our 7 county area of North Carolina. Together we can make a difference! To learn more visit parent2parent.appstate.edu Thank you!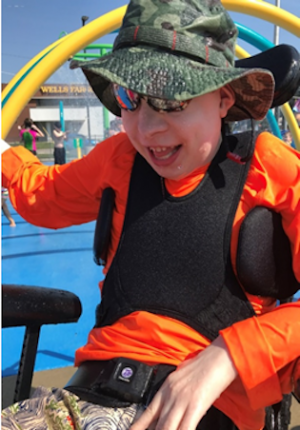 Tags: