By Dayne Alexander
Courtney Bell is a first year student at Appalachian State University, and it is clear that she loves being in college. She is very excited to be taking dance class, taking nutrition and hospitality management courses, attending football games, singing in the gospel choir, working on campus in Sanford Commons, and hanging out with all of her new friends. Courtney is very much your typical fun-loving college girl, but she is also the pilot student in ASU's Scholars with Diverse Abilities Program (SDAP). Funded through the Transition and Postsecondary Program for Students with Intellectual Disabilities (TPSID) grant through Western Carolina, SDAP is a two-year program designed so that students with intellectual disabilities can have the college experience by taking college courses, building their skill sets, and enjoying a vibrant social life. Focusing on self-determination, independence, inclusion, and natural supports, the program also prepares students for life after college.
Courtney has thoroughly enjoyed her time in the program thus far, and said that she definitely recommends it to other students. She has a great support system at Appalachian, with about twenty student volunteers tutoring, mentoring, and hanging out with her. Every semester, Courtney sets her own goals and evaluates herself with SDAP Director Melody Schwantes and GA's Allison Rayburn and Michelle Lighton. She is learning about hospitality management, and hopes to work in a restaurant after she finishes the program. Aside from taking classes, Courtney began working in food service at Sanford Commons at the beginning of this year. Since taking the job, Courtney says she has made new friends with her co-workers. Her position has also helped her get more experience in her chosen field.
When she is not doing schoolwork or working, Courtney goes to concerts at the university, has coffee dates with friends, and swims in the pool at the Student Recreation Center. Although she is currently living with her parents in Boone, Courtney will be living a residence hall next year. She is eager to experience dorm life, saying that she thinks it "will be like a sleepover with friends!" Courtney is a very social young woman and she will be in good company next year, as there will be additional students in the program for Fall 2012. SDAP's goal is to have sixteen students enrolled by 2015, and with Courtney's trail-blazing they are well on their way.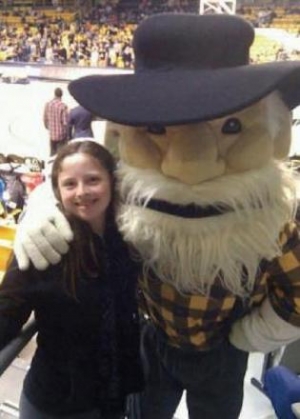 Tags: