By: Landon's Mom
Landon's mother asked him what Autism was and his response was:
"Always Unique Totally Interesting Sometimes Mysterious."
At a recent baby shower, I met a parent who has twins; one of which has autism. She asked me if Landon knew he has autism. My response was that I was unsure if he knew he had autism and I wasn't sure if he even knew what it was. That evening I asked Landon what autism was and his response was, "Always Unique Totally Interesting Sometimes Mysterious." He learned this phrase many years ago after my husband, Les made a video about him.
We are all unique in our own way but individuals with a disability are extremely unique. Where they lack in one area they make up for in another. They always tend to fascinate me in the way they look at the world and life around them. They are completely honest, innocent and never cease to amaze me.
Landon has always been a sponge, soaking up information around him on a continued basis. He has a few interests like following all the sports on TV and playing Minecraft every day. But, like most individuals on the spectrum, he has one particular "hot button" and that is baseball. He loves baseball so much that he has created excel spreadsheets of some of the teams. This summer, for the first time in his life, Landon was able to play his favorite sport through an Adaptive Baseball League. He even got to play first base and he also found out that he's not a bad hitter.
Many of these individuals have talents that you are aware of and you can tap into and some you find out about quite unexpectedly. For instance, many years ago, I taught Landon how to follow the directions on the back of a box of Macaroni and Cheese and a bag of Ramon Noodles. Now, he can make either one of those meals without my assistance.
I thought I would teach Landon how to follow the directions on the back of a box of Hamburger Helper. Well, this developed into a cooking goal to cook an evening meal for the family once a week. Then out of the blue he didn't want to do it any more so I took off the goal and we worked on other things. Then one day he surprised me and said, "I want to cook on Wednesdays." Well, we were back to our weekly Hamburger Helper nights. We all thought we were going to eat Hamburger Helper for the rest of our lives until again he surprises me with, "I want to make tacos." Then, "I want to make spaghetti and meatballs". If there was something he really wanted and I procrastinated on making for him, he put it on his Wednesday meal plan for him to make.
Through time and his love for cooking he has progressed into picking out his own dishes from the various cookbooks that he received from Christmas and his birthday. (I.e. Chop Chop-The Kid's Guide to Cooking Real Food with Your Family, Cooking Light Real Family Food, The Everything Kid's Cookbook, and Cooking Rocks! Rachael Ray 30 Minute Meals for Kids.)
Cooking with Landon has made me realize that what we do automatically every day doesn't come naturally for someone with a disability. There is a lot more to cooking then either one of us even imagined. Somethings came quickly for him like reading directions and gathering and preparing ingredients. While others things, like comprehension, takes more time.
Trying to teach him each step takes a lot of patience. I have to walk him through sentence by sentence and work out what the recipe is asking him to do.
Cooking is a challenge but also a rewarding experience for both of us. We are both learning and growing together. He is now branching out to making pies, cookies, and other desserts. He has even made us breakfast. We all enjoy seeing the finished product and of course eating it.
Tips for parents: Prior to introducing your child to cooking, pick one easy recipe and go over it with them. The first thing your children can learn is to gather ingredients. In the beginning they will be watching quite a bit but this shortens over time. Even until this day, I still have to start Landon in the process of what to do and then he is able to pick up where I left off. Keep in mind that with a lot of patience, wisdom, love and prayer the results will be amazing.
If you are interested in learning more about Landon and his cooking, you can visit his Facebook page, "Landon's Home Run Kitchen."
Landon loves to make Macaroni and Cheese and this is one of his favorite recipes. This is from the September 2013 Edition of Cooking Light Magazine. I modified the recipe so it is broken down and placed in an order that would be easier to understand.
Two-Cheese Mac and Cheese
10 ounces large elbow macaroni
2 tablespoons canola oil
3 garlic cloves, crushed
2 ¼ cups unsalted chicken stock, divided
½ cup 2 % reduced-fat milk
8 teaspoons all-purpose flour
4 ounces 1/3-less-fat cream cheese
½ teaspoon salt
1/8 teaspoon ground black pepper
Cooking spray
3 ounces (3/4 cup) extra-sharp cheddar cheese, shredded.
*Prepare your ingredients before hand
Preheat broiler to high.
Prepare 2-quart baking dish with cooking spray for later use.
Cook pasta according to package directions, omitting salt and fat; drain. Set aside.
Heat a Dutch oven over medium heat. Add oil to pan; swirl to coat. Add garlic to pan; cook 3 minutes or until garlic is fragrant, stirring frequently (do not brown).
Stir in 1 cup stock; bring to a boil. Cook 1 minute.
In a small bowl, combine remaining 1 ¼ cups stock, milk, and flour, stir with a whisk until flour dissolves. Add milk mixture into the Dutch oven, stirring with a whisk. Bring to a boil; cook 5 minutes or until mixture begins to thicken.
Remove Dutch oven from heat; add cream cheese, stirring until smooth. Stir in salt and pepper.
Add cooked pasta into the Dutch oven, tossing to coat. Let stand 5 minutes.
Pour pasta mixture into the coated 2-quart baking dish. Sprinkle cheddar cheese evenly over pasta. Broil 3 minutes or until cheese melts and begins to brown. Let Stand 5 minutes.
(Serves 6-Serving Size =1 cup 358 Calories)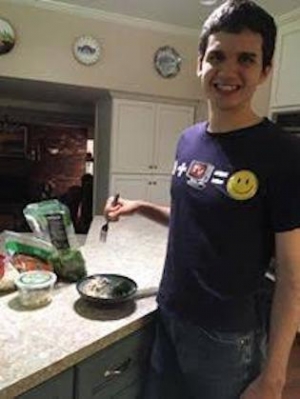 Tags: