Hello my name is Catherine Huete. I wanted to share my story of how I got here with everyone. I remember when I first started dancing at a studio that was when I was around age six but remembering why is another story. All I knew at the time was when my parents played music I would always dance around the house without any real direction but I was often shy in dancing in front of people which hasn't changed too much however, after having some lessons I became more confident in showing my moves. I would perform in the living room making up my own choreography while even making a profit hahaha! I would charge my dad and grandparents about 5 cents to watch me. As I grew older I also became wiser charging about $1 for each performance.
Dancing later became so much more. It became a love, passion, escape, and a coping mechanism. If I were feeling mad, I could "krump" it out in my room. If I were feeling sad, contemporary always helped. If I were feeling invincible I would every now and then try tumbling but that mostly didn't work. If I felt happy, ballet was always the answer. Of course I would mix the different genres of dance together also. It wasn't until about 4 years ago when I started trying other dances beside ballet. For some reason I knew what they were before I knew of their actual names. I guess it had to do with my emotions and how I dealt with them through dance.
One of my goals is to become a professional ballerina. I know the dance world is a very competitive one and it is not easy to "Grand Jete" into this field. I am still willing to do whatever it takes, knowing the odds, of becoming a "Prima Ballerina". If it doesn't work out I have a back up plan, which to still follow dance whether it be teacher or choreography.
Although dance is my main focus I have many other interest such as science, English, writing, and acting. I love writing poems about anything and everything but mostly about certain events that I've actually experienced that can be relatable and motivational to others. I've always been more dramatic when sharing things so I guess I can say drama is a lot of fun. I have taken theater at both Lee's Mc Rae's CAPA summer camps and Watauga high school. I have been involved in many community plays. Another thing I really enjoy is volunteering, through Western Youth Network and their mentoring program; they assigned a mentor to me who helped me through many things in my life. My mentor and I did much volunteering at the Humane Society and Hospitality House. Giving to someone in need doesn't just benefit the receiver, because I know when I make someone else happy, it brings me joy and adds balance to my life. So in my opinion, volunteering is a two way street and maybe perhaps more on the side of the volunteer.
Presently, every morning at 5:00 am, I wake up to get ready for school; which I board the bus to Watauga High School at approximately 5:50 am. The bus ride takes me two hours and fifteen minutes each day. Upon my completion of my studies and class work at school by 3:30, I then go to the dance studio and dance till 8:00 pm. Then my father picks me up and we go home to repeat the next day. On weekends, I exercise, catch up on my sleep and do house chores. I have been accepted to Princeton University's summer intensive for a second year in a row. This is my second annual Princeton fundraiser. Their expert tutelage, direction and nurturing demeanor combined with the excellent staff, really helped me have lots of fun and gain significant strides in my learning. The environment at Princeton was both majestic and monumental.
To sum everything up I don't know where I would be without dancing because it has helped me get through many hard times. When I'm dancing my stress and worries suddenly disappear. When I get out of dance class, I'm always happier especially after a long day at school. Dancing is what keeps me balanced both mentally and physically. Dance has always had a major impact on my life and always will.
Check out more of the story on the cover of Mountain Times newspaper at: http://www.wataugademocrat.com/mountaintimes/whs-student-accepted-into-princeton-s-summer-dance-intensive/article_5b02047b-6284-5a81-9e1d-0c08f62b2733.html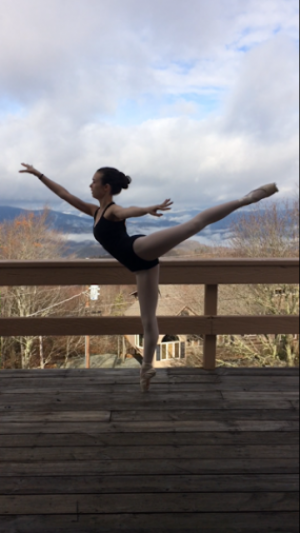 Tags: