On Saturday, Oct. 16, costumed creatures once again gathered on the campus of Appalachian State University - and virtually - for the eleventh annual Spooky Duke 5K/10K Race and Costume Contest.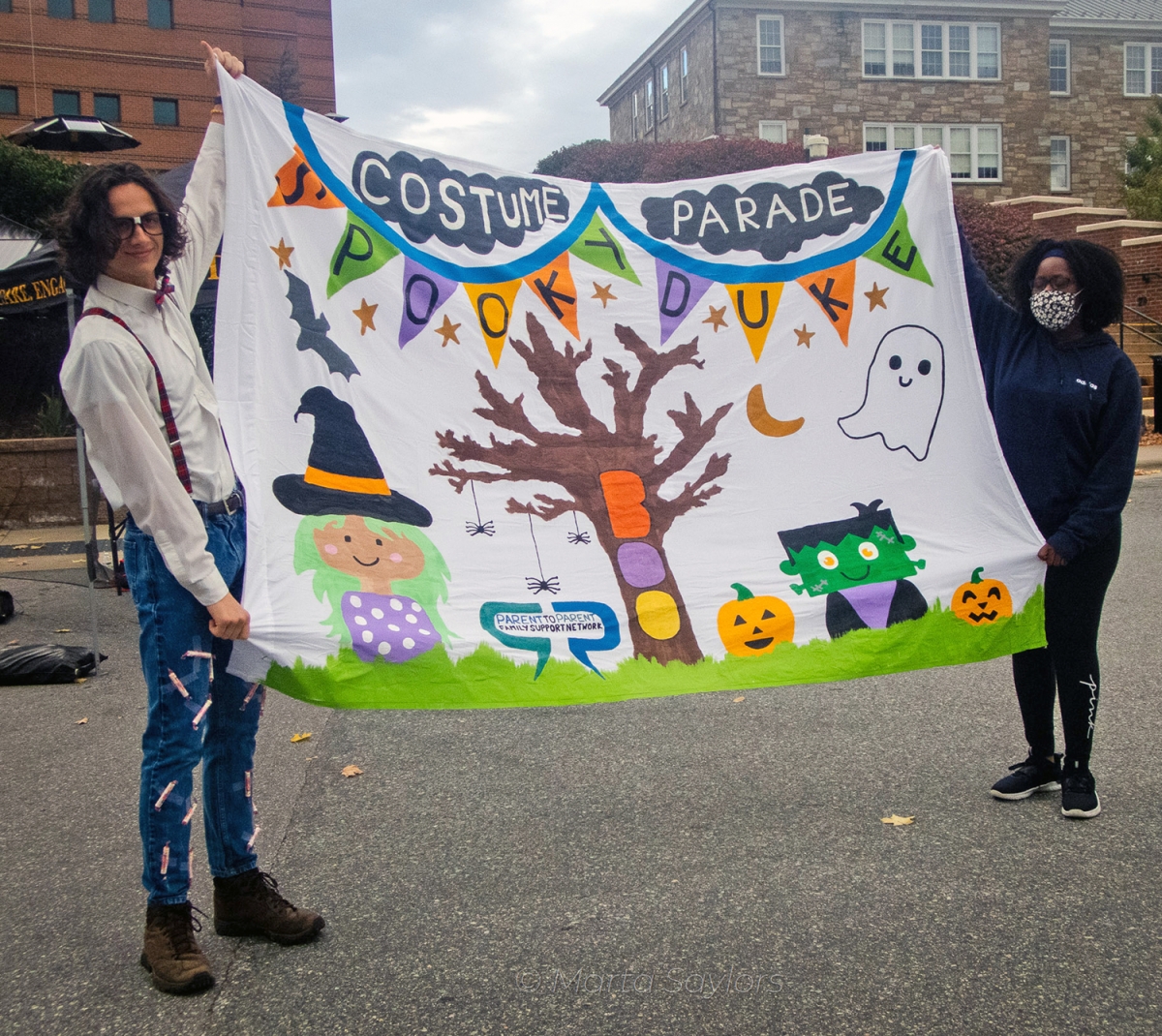 Sophomore music education major Malcolm Vaughn and senior psychology major Angeline Amponsah lead the way with the Costume March banner! Photo by Marta Saylors.
This year, 341 walkers and runners participated in-person and virtually, and 50 volunteers helped make the event a success. With sponsorships, donations and participation fees, the event raised over $15,000 in proceeds to benefit the work of App State's Parent to Parent Family Support Network-High Country (FSN-HC), which assists regional families who have children with special needs. Two $5,000 matching grants from Health Foundation Inc. and Mast General Store raised the total to $25,617 - the most since the annual race began.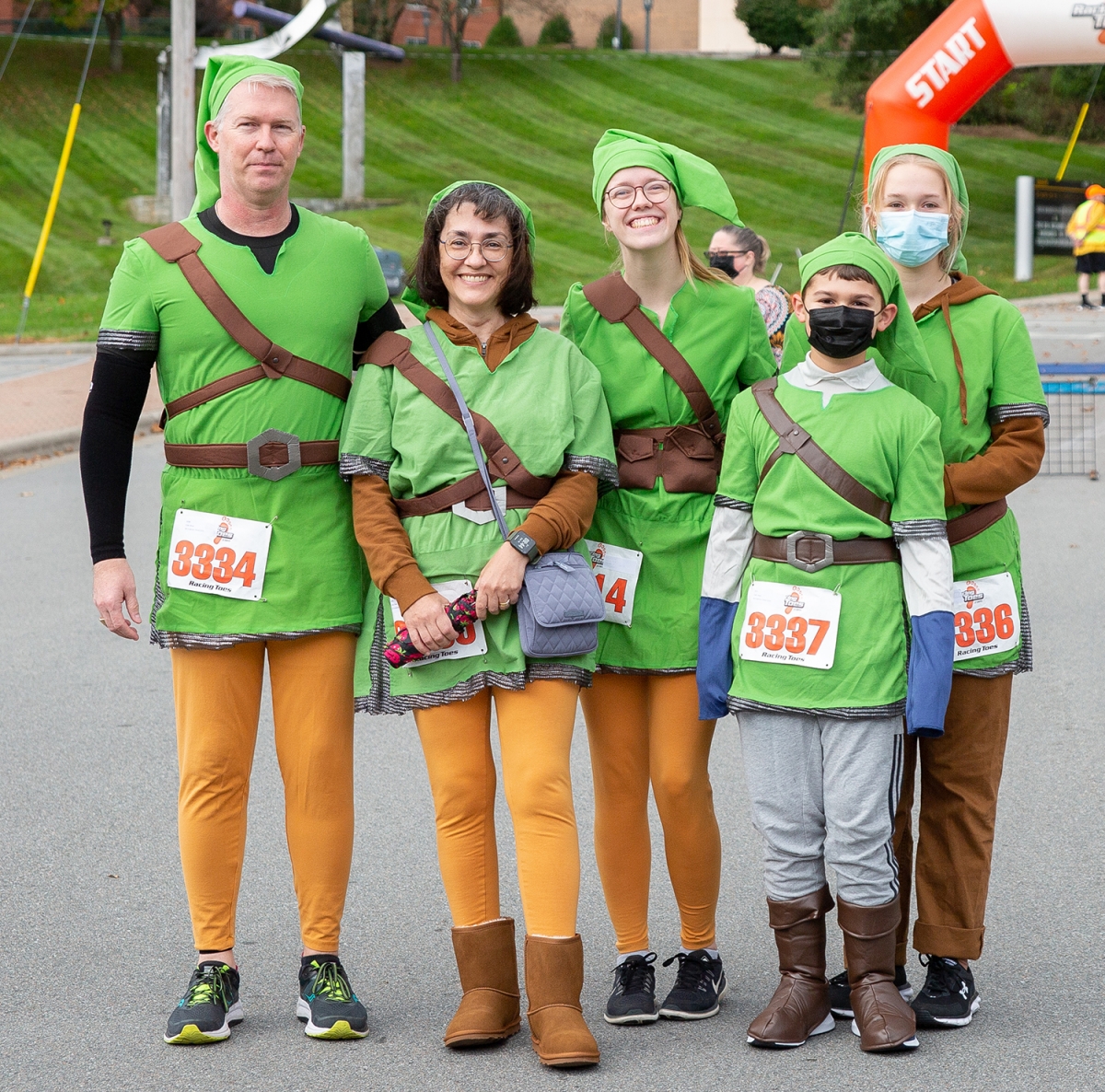 Brian Cole, Ana Cole, Natalie Croxton, Owen Cole, and Sophia Cole are ready to race! Photo by Kyla Willoughby.
The Halloween-themed fundraising and awareness-raising event is a USA Track & Field (USATF)-certified 5K and 10K race with a free costume march and contest in which children, adults and pets can all show off their costumes and share in the fun. Spooky Duke is named in honor of Dr. Charles R. Duke, event sponsor and former dean of App State's Reich College of Education (RCOE).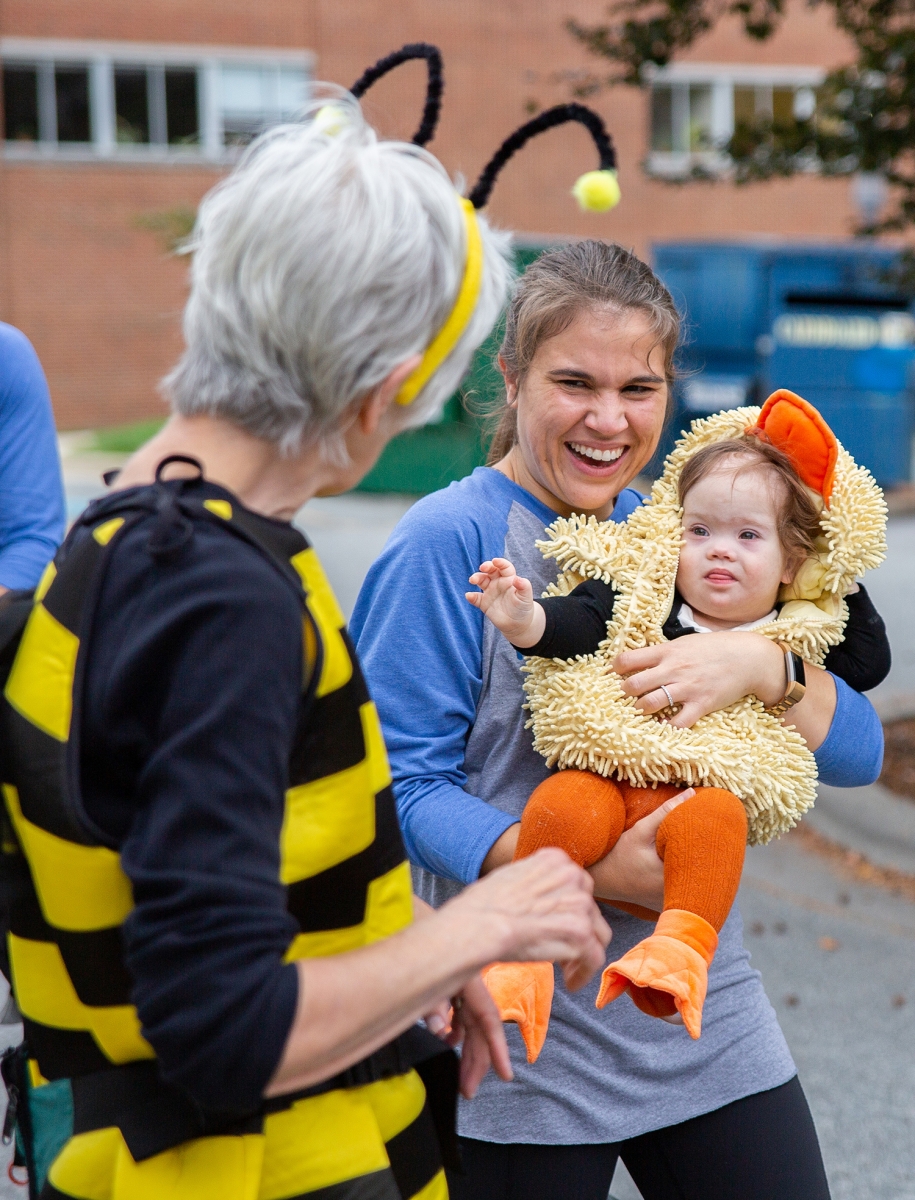 Parent to Parent (FSN-HC) director Kaaren Hayes says congratulations to the youngest costume contest winner! Photo by Kyla Willoughby.
App State's Parent to Parent (FSN-HC), housed in the RCOE, provides free support and information to families who have a premature baby or a child with a disability, an emotional or behavioral challenge, a mental illness or a chronic health condition, and also assists families who are grieving the death of a child. The program serves Alleghany, Ashe, Avery, Mitchell, Watauga, Wilkes and Yancey counties.
Race results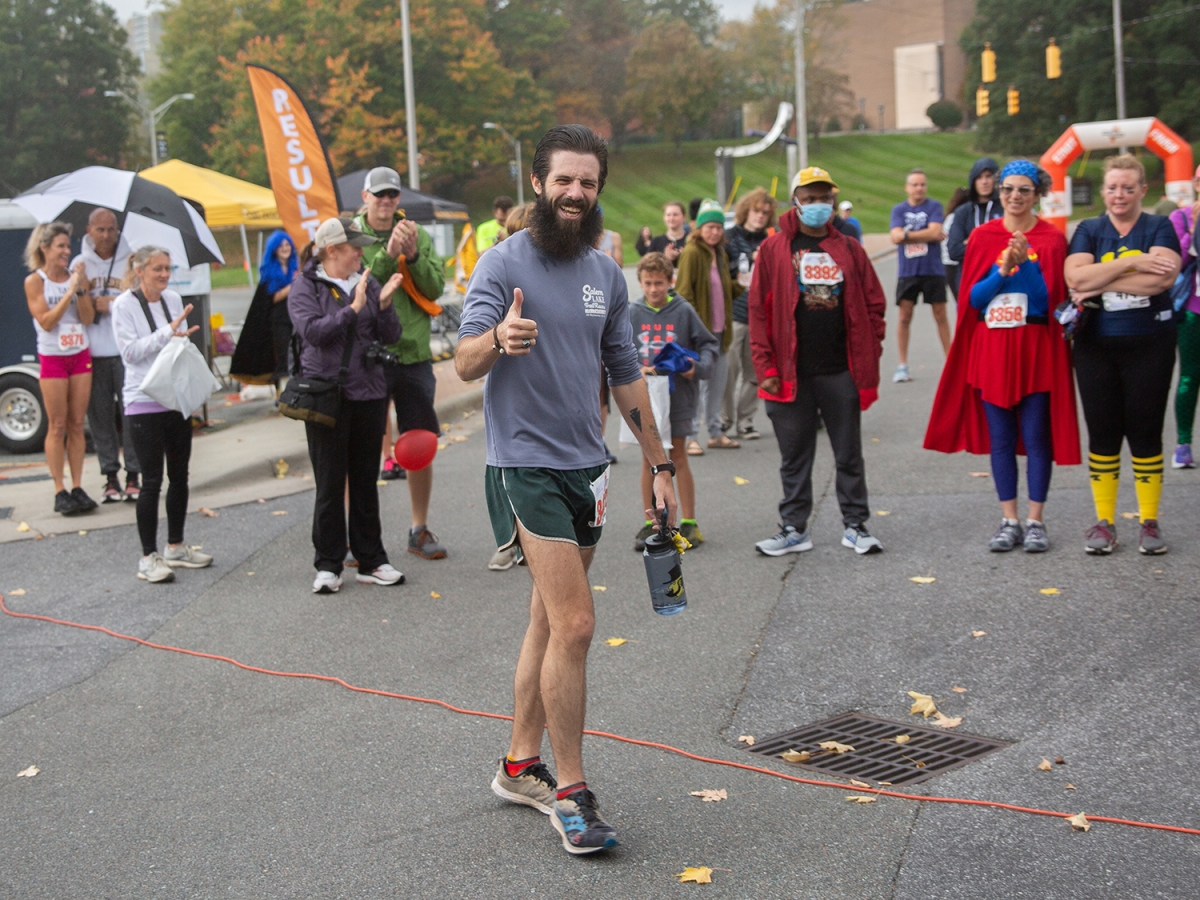 10K second-place runner, Ian Combest, gives a thumbs up as he accepts his award! Photo by Kyla Willoughby.

5K Top Finishers (men)
First place — Kevin Garbacki; time 17:55.4.
Second place — SageCosten; time 19:05.9.
Third place — Calvin Zwetsloot; time 19:38.9.
Masters — Sean O'Grady; time 23:58.4.
5K Top Finishers (women)
First place — Taylor Broyhill; time 21:51.6.
Second place — Lydia Picotte; time 23:10.3.
Third place — Angie Blevins; time 23:31.7.
Masters — Beth Shanklin; time 27:47.6.
10K Top Finishers (men)
First place — Grady Gates; time 42:33.3.
Second place — Ian Combest; time 46:37.9.
Third place — Jonathan Apolinar; time 58:22.9.
Masters — Ross Gosky; time 48:48.2.
10K Top Finishers (women)
First place — Abby Farrell; time 47:16.9.
Second place — Logan Marine; time 48:26.9.
Third place — Peyton Kota; time 59.36.0.
Masters — Diane Sprage; time 1:03:06.9.
View the complete Spooky Duke 2021 race results
Event sponsors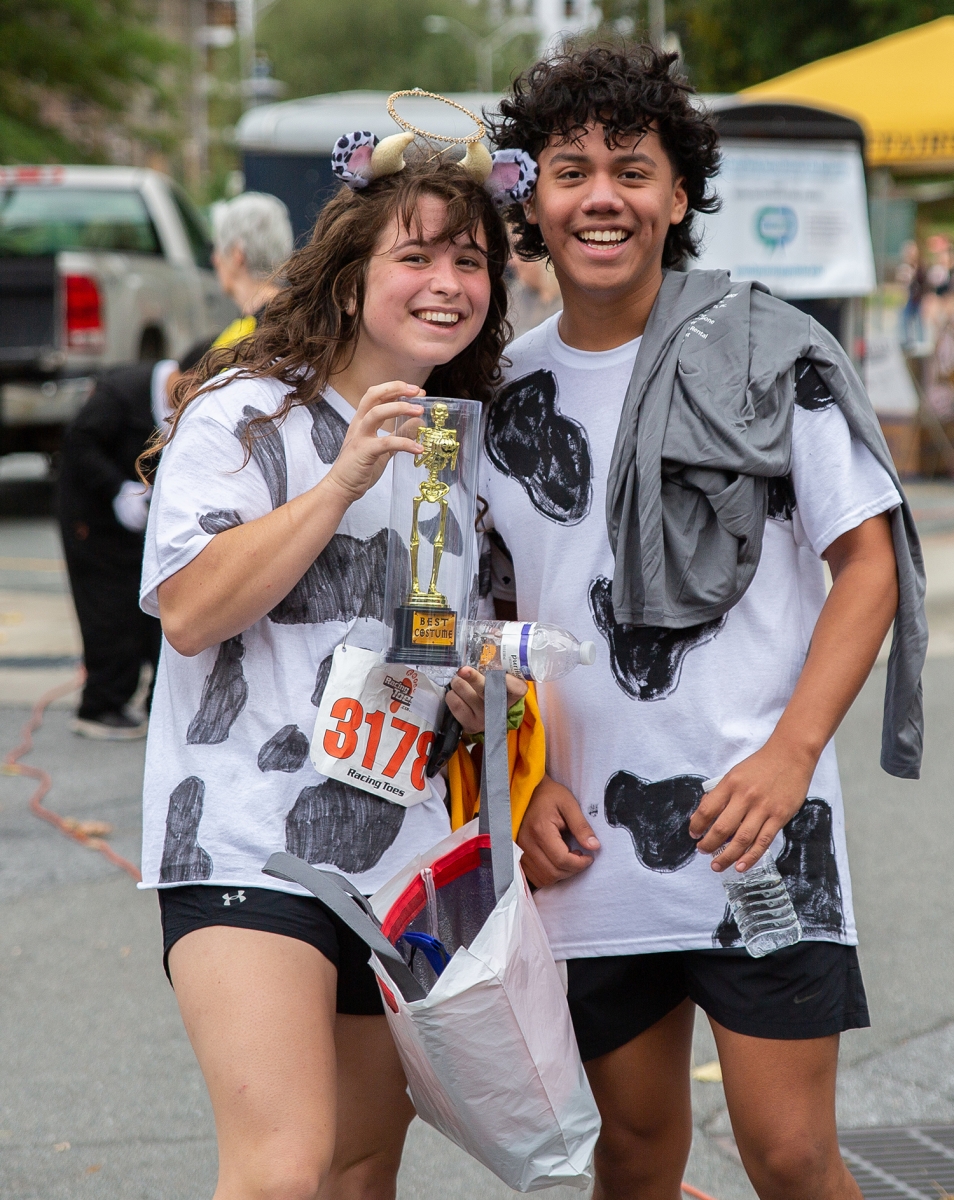 Sophomore psychology major Karyn Schy and junior public health major Jonathan Apolinar Soriaño share the spooky costume contest trophy. Photo by Kyla Willoughby.
Hair Raiser ($1,000-plus contribution)
Dr. Charles R. Duke, Dean Emeritus of the Reich College of Education
Allie Funk
Fang-tastics ($500-plus contribution)
Jack-o'-Lanterns ($300-plus contribution)
Appalachian Auto Glass
Coe Realty - Helen Phillips
Kimberly Ennis
Skeletons ($125-plus contribution)
Partners for 2021 Spooky Duke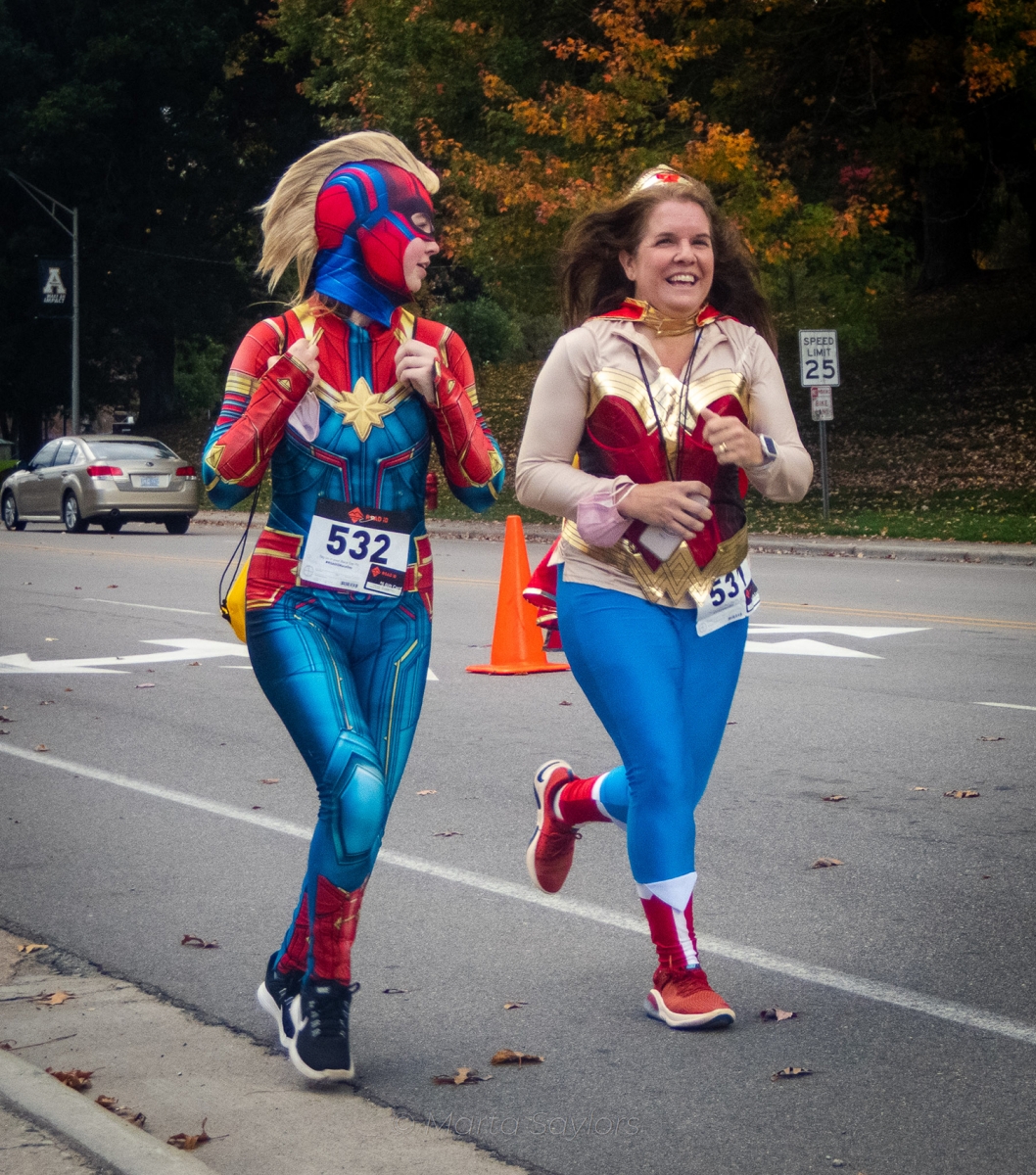 Captain Marvel and Wonder Woman took time from saving the world to run the Spooky Duke! Photo by Marta Saylors.
Parent to Parent (FSN-HC) would like to thank the following groups and individuals who helped make the Spooky Duke race and silent auction a success.
App State and community organizations
Anna Bananas
App State Parking & Traffic
App State University Bookstore
AppalCart
Ashe County Cheese
Boone Bagelry
Boone Docks Brewing
Boone Town Council
The Cardinal
Come Back Shack
Cupcrazed Boone
Dos Amigos
Five Guys
GE Aviation
The Goldsmith
Great Clips
Harris Teeter
Hungry Howie's
Ingles
Jaybird aerial Photography
Little Caesars Pizza
Los Arcoiris
Lowes Foods
M&B Printing
Mountain Outfitters
Mystery Hill
Publix
Racing Toes
Twigs
Village Cafe
Walmart
Individuals
Janet Adams
John & Marcia Blake
Hollis Bruck
Diane Coffey
Olivia Cullipher
Elizabeth Dunbar
Sali Gill-Johnson
Scott Galloway
Judith Ann Graham
Kaaren Hayes
Megan Hayes
Lisa & Charles Hypes
Trish Kerley
Charles Lieberman
Kathy Mann
Bill Pillow
Amy Roberts
Rebekah Saylors
Race Teams
ADPI App State
Cabbage Rolls
Caleb's Hobgoblins
Cookvid-19
Covenant to Serve
Kaleidoscope
The Pacemakers
SDAP/ Best Buddies
Tele-Trotters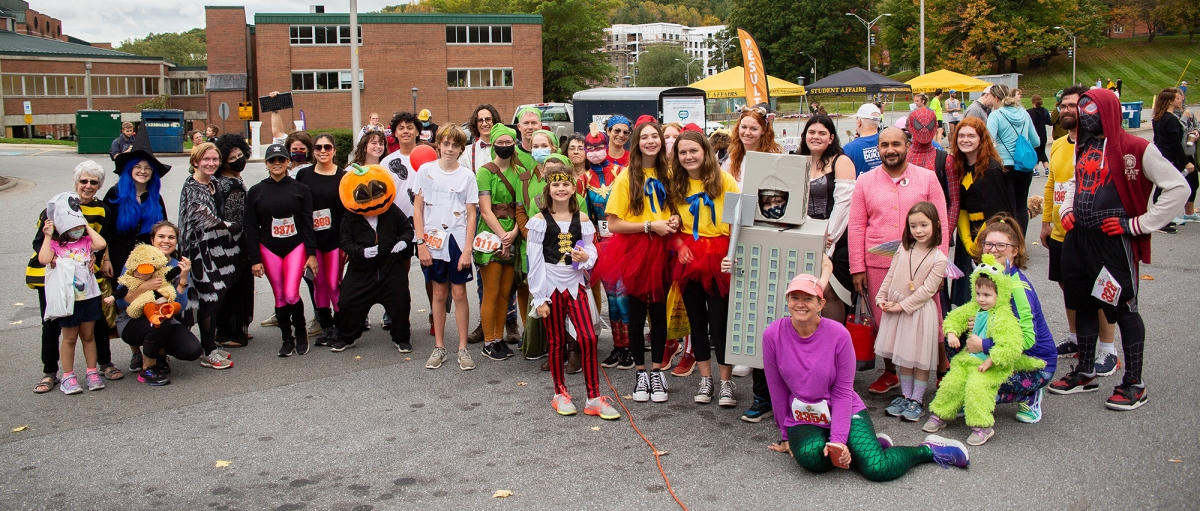 All the costume contest participants! Thank you to all who participated and helped make Spooky Duke a success! Photo by Kyla Willoughby.